Lohmann donates hand disinfectant
Normally Lohmann produces adhesive tapes, but during the Covid-19 pandemic the Neuwied-based company also produces hand disinfectants.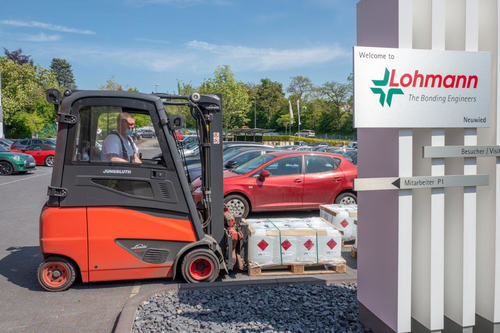 The company donates part of the disinfectant to institutions in the region.
Three Lohmann employees had the idea to produce the agent. René Fallait, Head of the department for Safety, Health and Environment: "We were looking for disinfectants ourselves and due to the shortage we are very happy that we can now produce the disinfectant ourselves. The idea of donating a part of it and thus supporting institutions in the region came up quickly". This project was only possible thanks to the general decree of the Federal Institute for Occupational Safety and Health, allowing chemical companies to produce hand disinfectants themselves for a limited period of time.
Last week, the company received a large delivery of 2-propanol of appropriate purity, which was processed and packaged into hand disinfectants according to a WHO prescribed formula. Lohmann donates part of the batch to the district of Neuwied for professional use. The district then ensures that the product is distributed to doctors' practices, hospitals or public institutions – where the product is urgently needed to reduce the risk of infection with the virus. The remaining part is intended for the three German Lohmann sites in Neuwied, Remscheid and Altendorf. Because the safety of its employees is a top priority for Lohmann.
The handover on April 27 took place in front of the Lohmann TEC Center, the research and development center of the Bonding Engineers. 1000 liters of the disinfectant, distributed on four pallets, were loaded into a car of the local fire brigade. René Fallait and Managing Partner Dr. Jörg Pohlman welcomed County Commissioner Achim Hallerbach, who appreciates the solidarity in the region: "Impressive initiatives of companies such as this one have a beacon function and distinguish our region. The regional economy is moving closer together and individual employees are also showing what they can achieve. We can supply system-relevant institutions with the disinfectant. For example, schools that urgently need the disinfectant now. The traditional company has long been committed to strengthening the region and the employees are pleased to make a small but important contribution to closing gaps in supply with the donation. Dr. Jörg Pohlman also emphasized: "Further donations are also conceivable during the crisis, because solidarity and people's health are our greatest assets."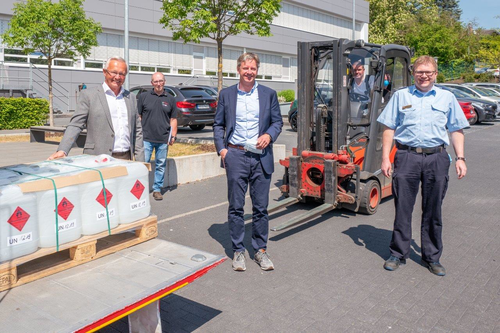 v.l. Achim Hallerbach (County Commissioner Neuwied), René Fallait (Head of Safety, Health and Environment Lohmann), Dr. Jörg Pohlman (Managing Partner Lohmann ), Holger Kurz (County Fire Inspector)