Lohmann supports "Radieschen Wermelskirchen"
Financial support of 1,500 EUR for a circus project with around 90 children.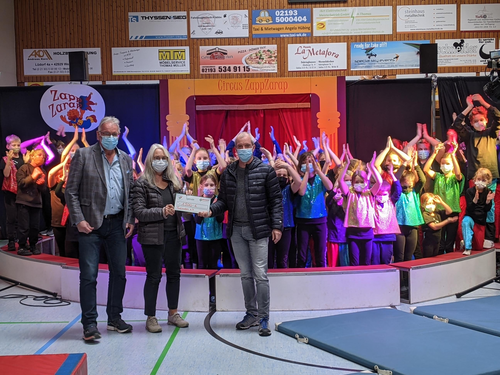 The association "Radieschen e. V. Wermelskirchen" (The Radishes of Wermelskirchen) focuses on supporting children from financially disadvantaged families, for instance in the form of grants for music lessons or sports camps for talented children. Now the association itself is receiving generous support in the form of 1,500 EUR from Lohmann's Remscheid location. The money went to a circus project, which took place once again from October 18th to 23rd. and where the children learned acrobatic circus tricks.
In addition to a wide range of offers of support to financially disadvantaged children, the association once again organized a circus project during the autumn break. About 90 children took part and participated in workshops and learned, among other things, acrobatics and tightrope acts. "At the end of the project week, the children demonstrated the tricks to their proud parents", reports the chairman of the association, Rainer Bleek.
The Lohmann donation enabled all children to participate
Because the "Radieschen Wermelskirchen" is financed almost exclusively from donations, further support is necessary in order to be able to accomplish such a project. "We at Lohmann Remscheid wanted to ensure that all children, regardless of their financial background, could take part in this wonderful event", says Wolfram Doll, Head of Accounting at Lohmann in Remscheid. The donation was able to finance the lunches for all of the children. "Because learning tricks for the circus makes you hungry," says Bleek. "Accordingly, we are very grateful to Lohmann for their fantastic support".
The "Radieschen Wermelskirchen" commit themselves to helping children from financially disadvantaged families on a broad scale
"Radieschen Wermelskirchen" supports children both in the sporting and cultural fields. This includes for instance, taking over the fees for dance courses as well as financing hired instruments or sportswear to enable the participation in club sports.
Social commitment towards regional projects – absolutely in line with Lohmann's tradition
In addition, as part of a special project, the volunteers from Wermelskirchen have already supported families with the procurement of tablets, which are in the meantime indispensable. Wolfram Doll adds: "The commitment of the "Radieschen Wermelskirchen" cannot be overestimated. Thus, for Lohmann there is no question of helping in this case, especially since - in line with our tradition - it again constitutes a regional commitment. And as we all know, everyone loves to look into the radiant eyes of happy children".