A signal against climate change - Lohmann Neuwied plants 170 trees
This campaign is part of a global tree-planting initiative by Lohmann on the occasion of the company's 170th anniversary.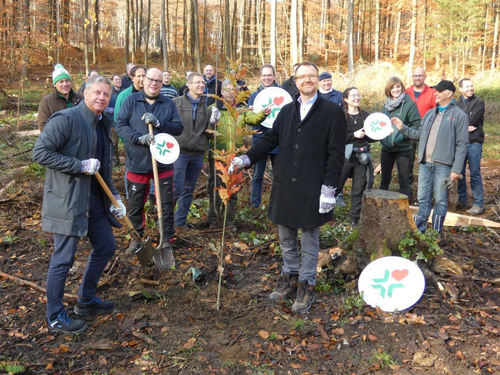 One tree for every year of Lohmann Neuwied. Because Lohmann GmbH & Co. KG is celebrating its 170th anniversary this year, 170 trees have been planted in the city forest in the Monrepos Castle area. This nature conservation initiative was presented at an official event on November 10, 2021. In addition to the executive management, Dr. Jörg Pohlman and Dr. Carsten Herzhoff, Lohmann employees were also present, who actively participated in the planting campaign.
"Send a strong signal against climate change and for sustainability and environmental awareness. This was a matter clearly dear to our hearts. With the support of forester Andreas Hartig and his team, 20 motivated employees began today to plant the trees in a professional manner", reports executive partner, Dr. Jörg Pohlman. The number 170 is no coincidence. The company was founded in 1851, 170 years ago. "This year's anniversary is an occasion for us to make the Lohmann Adhesive Technology even more sustainable", adds Dr. Carsten Herzhoff. "And planting trees is much more than mere symbolism. Such reforestation projects are part of effective measures against climate change", exclaims responsible district forester Hartig.
Trees are not only being planted in Neuwied
Climate protection should be considered on a global scale, which is why the tree-planting initiative has not been limited to Neuwied. Indeed, the participating Lohmann branches are planting worldwide as many trees as the years that have passed since they were founded. "At 29 locations around the world, our colleagues are working flat out to take one step further every day towards sustainability. Thanks to the tree planting initiative, the number of trees worldwide that store CO2 is really adding up. We need our forests as a basis for life, home and to take a deep breath", says Carsten Herzhoff. Because it is a well-known fact that: only those who think ecologically have a future on the world market.