1000 m2 investment in the future: Inauguration of the new factory hall for the Competence Center Die-Cutting in Remscheid.
Lohmann is celebrating its 170th company anniversary this year – and is investing in the future.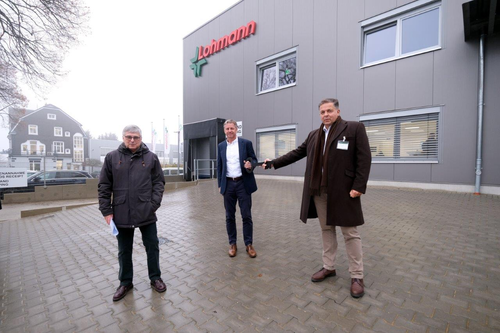 After a year and a half of construction, the two Executive Directors Dr. Jörg Pohlman and Dr. Carsten Herzhoff together with Plant Manager Hans-Joachim Gärtner inaugurated the new building at the site in the "Bergisches Land" region in November. The new finished goods and shipping warehouse will above all optimize workflows and the flow of goods.
The Competence Center Die-Cutting has been producing customized, certified adhesive solutions and high-precision die-cuts for applications in bio, sensor or medical technology, as well as the automotive, electronics and consumer goods industries for 50 years. "Our high-tech products are manufactured on site in quantities ranging from 500 to 50,000,000 – often in tolerance ranges of a few tenths of a millimeter," explains Hans-Joachim Gärtner.
With the latest investment of 1.4 million euros in the Remscheid site, Lohmann is creating space for further growth. And it does so in a sustainable manner: insulation, lighting and a heating system using a heat pump meet the highest energy standards. A photovoltaic system is already being planned; after commissioning, the company's energy balance will move into positive territory in the future. "Using energy and resources sparingly is a very important part of our strategy for the future, and one that is very close to our hearts!" says Dr. Jörg Pohlman.